For 10 years, the school has been an extraordinary place for learning, research, and public health practice. It is a remarkable place for collaboration across disciplines, both within the University and beyond our Van Wickle gates. Ours is a community that values diversity in all its forms — through close attention to equity, respect, and inclusion.
This year marks an exciting milestone, and we are thrilled to celebrate the 10 year anniversary of our school throughout the year with not only the Brown and Public Health communities, but also our local, national, and global partners. Starting with our kickoff event on September 27th, and continuing through Commencement in May, ours will be a 9 month celebration that will honor the School of Public Health's evolution, growth and plans for the future. I hope you will join us in many of the events and gatherings that will mark the milestone. 
We are at a critical moment in public health. We are experiencing the growing effects of climate change on population health, increasingly deadly and widespread impact of substance use disorders and the ongoing reverberations of Covid-19 pandemic — all in an environment plagued by bad information that directly harms public health. 
Public health leaders are needed now, more than ever. Together we must take on the responsibility to deepen understanding, generate, translate, and share knowledge, and to have real and meaningful impacts on our communities. Our mission demands leadership: to improve the health of all populations, especially those most vulnerable, by producing world-class public health scholarship, forging strong community partnerships, and educating the next generation of public health leaders.
Together, we are advancing this mission, building a 21st century school of public health to meet the great health threats of the 21st century. We are building on a strong faculty, staff, and student body by recruiting creative, innovative academics and building the research and translational infrastructure and relationships to address the biggest challenges to public health. As we grow, we continue to strengthen our identity within the University. 
I am thrilled to start what I know will be an extraordinary year of achievement, growth and impact at the School of Public Health. Thank you to each and every one of you in what you do to make the health of the people we serve better.
Sincerely,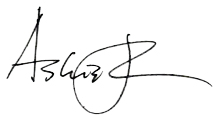 Ashish K. Jha MD, MPH
Dean, School of Public Health
Professor of Health Services, Policy, and Practice